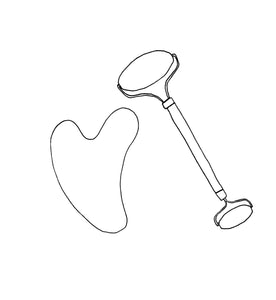 A step by step guided facial massage for you to embody expert technique from the comfort of your own home. Using a tactile approach to non-invasive facial firming & plumping methods to leave you feeling naturally more sculpted & vibrant. 
This session uses hands, facial tools and buccal massage technique (be prepared for thumbs in mouth! Yep, we're massaging internally as well as externally)
Please come to the session with 

a clean face

your hair tied back / out of face

clean hands

a suitable facial oil 
a heart shaped gua sha
a stone/crystal facial roller

a facial mist (optional)

a top the allows you access to your neck, collarbones and shoulders
Make sure that your nails are on the shorter side and that you have a glass of water next to you. Get your mood lighting just right and light some candles to make sure you feel as relaxed as possible.
This session will have you gliding, kneading and sweeping through a jazzed up version of Nicole's 5 phases of facial massage:  warming up the facial tissue beginning with buccal massage, manipulating and defining the muscle using your gua sha, resistance training, tapping tension relief and the cool down. The facial roller will be used at different points throughout the session. 
An email will be sent out to you one day prior to the session to confirm the Zoom log in details.