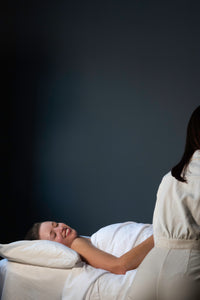 If there are no appointments showing after selecting each treatment variation then this means that all appointments have been booked. Nicole releases her appointments every 15th of the month for the month ahead, so if there are no appointments available for this month then please revisit here on the 15th for the month following. 

 THE SIGNATURE +

THE SIGNATURE 


The holy grail of healthy skin ;

The Signature 60 + is exactly what you skin wants and needs within 60minutes.  Facial massage is centre stage with LED, face cupping and our newest addition, the LYMA laser, being the perfect accessories to the best facial performance. Your treatment will vary each time depending on your skin's needs.
The Signature 70 + is an extended version of this to allow you some extra time with LED, facial massage, LYMA or for general relaxation.

Stripped back to basic;

The Signature 45, is all about discovering the beauty of facial massage within 45 minutes. Each movement will send waves of deep relaxation throughout your entire body, whilst establishing plumper skin and draining excess fluid retention. You are sure to leave feeling radiant and as though you are walking on clouds.

 

Both of the Signature Treatments involve guided breath work and all over body pressures, and every movement is approached intuitively, meaning that no treatment is the same. Nicole's approach to treating the skin is not to carry out a quick fix facial but to ensure that your time with her is a wellbeing experience from start to finish. 
------
Nicole is a non-brand affiliated facialist and therefor all products used throughout will be from different brands and specifically paired to your skin's condition in that moment. Some favourite brands used with FACESPACE are: Tata Harper, Monday Muse, Kate Someville, Stratia, Wild Source, Votary...
FACESPACE LOCATION & ENTRY DETAILS
URBAN OFFICE, 101 Portman Street, Kinning Park, Glasgow, G41 1EJ.
Please dial 26 on the dial board, at the entrance of building, and the door will open for you. Then take a seat in the foyer where Nicole will collect you once she is ready. 
The cafe will be open in the foyer Monday - Friday from 9am - 3:30pm only. 

Cancellation within 48 hours of the appointment will incur a charge of 15% of the treatment fee. On the day will incur a charge of 30% of the treatment fee and no shows will be charged the full value of the appointment. 
GIFT VOUCHERS: If you are struggling to find an appointment, and have had your gift voucher for longer than 3 months, then please email Nicole on ncwskinnutrition@gmail.com.