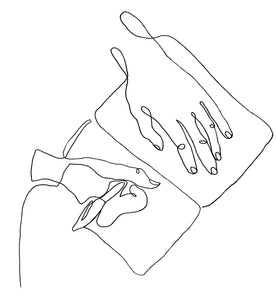 An Initial skin discovery consultation over Zoom which includes a
n in-depth discussion about your current skin condition, history of skin issues (if any) and looking at what products you're currently using, and are familiar with. 

You will then receive your bespoke 3 month skincare programme roughly 3 days after our chat over Zoom. We will check in with each other around 4-6 weeks from the date you start the programme (give yourself time to purchase the products) to ensure that you are getting the most from your programme, or to see if we need to make some little tweaks. This first follow-up is completely free. 


Why 3 months?
It can take a minimum of 1 month to see results from the skincare you're using, and even longer if using certain active ingredients. 3 months gives your skin plenty of time to adjust, settle and reap the rewards of your brand new skincare routine. 
Once you have allowed a full 3 months to settle into your routine, you can book follow-ups as you wish to set some new skin goals. Some people are very comfortable with keeping to the same plan for years and others prefer to switch it up seasonally! Your skin, your rules. 
An important point to make is that skin loves consistency. I would always refrain from switching up your products too frequently. Personally, I have staples that work for my skin that I will never change, and then seasonally I would play around with actives & how occlusive a product is to suit my skin needs at that point. 


Can't wait to meet you! x